【Meals only】 Entertainment · Anniversary ... All 10 items Unwind with meat and enjoy other rarities ... "Extreme course" 6000 yen (excluding tax)
Course details
【Meals only】 Entertainment · Anniversary ... All 10 items Unwind with meat and enjoy other rarities ... "Extreme course" 6000 yen (excluding tax)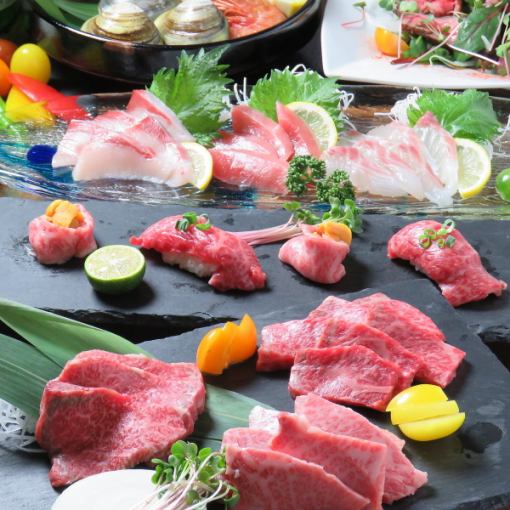 By using a coupon6000 yen
Tax excluded) Normally 7500 yen 2H In case of drinking-attached credit, 6000 yen ⇒ 6250 yen
Reservation deadline

Until 22 o'clock the day prior to the desired shop visit date
Available days for reservation

Monday - Wednesday - Friday - Sunday and public holidays - Holidays
TAYANTO special! Let's enjoy the meat luxuriously! The sea urchin meat is a limited item ♪ The lavish combination of meat and sea urchin is addictive! Please try it once ♪
Course menu
■ Today's first-come-first-serve
■ 3 types of fresh fish sashimi
Akashi's fish mainly
■ Hyogo prefecture vegetables and Kuroge Wagyu beef roast beef salad
With homemade wasabi dressing
■ Hokkaido-made unari's meat roll (Course-only limited item!)
Steamed onion from Awaji, butter and soy sauce
■ Selected A4 A5 Kuroge Wagyu beef set of three special selections
An example
◆ Ichibo ... the softest part of the lean It is located in the vicinity of the cow's buttobo with meat, next to the sirloin of the steak god.Even if it is not as soft as a fin, it is a pleasant chewy, even if you do not throw it like a special extra curry, it is impossible to say a refined umami of lean body!
◆ Hyudi ... It is a part further inside the peach inside the cow's rear foot.The most marbled sash is included as a part of peach.It is called because it resembles the shape and pattern of the flint stone.It is tasty and very soft meat!
■ Selected Beach Baked 3 Types
Example) Red shrimp clams Murotsu oyster squid mackerel violent fat Uruumeiashi scallop Akashi octopus etc.
■ Assorted grilled vegetables of Hyogo prefecture vegetables
Kuroge Wagyu Beef Broiled Sushi
■ Vanilla ice
Coupons that can be used with this course
2018/11/17 update